The AAL2Business support action run by META Group concluded after three years, supporting 79 projects and 118 organizations in enhancing the quality of life of older people.
The European population is ageing rapidly, a demographic trend that is impacting economies and societies. The most significant change is a decrease in the proportion of the working population while the number of retired people increases. But it is not just about shrinking labour supply and greater pressure on the public budgets for health care and pensions.  
One of the greatest difficulties Europe already faces is providing high-quality care that is affordable and available for all citizens. Many countries have experienced staff shortage for many years already, which constantly increases the pressure on existing personnel. The pandemic has exacerbated this trend. According to Eurostat, the increase in the proportion of older people will increase the burden of dealing with chronic diseases. They already account for 70-80 % of all healthcare costs.
This will require a redistribution of resources as well as new organisational, governance, entrepreneurial, and service models for our welfare systems. So how can we transform our healthcare systems to withstand the challenges of today and tomorrow?
Helping innovators develop successful businesses
Innovation in medicine and healthcare is predicted to be a key growth area in the following years. But bringing real solutions to real problems to the market is not always a straightforward process for researchers and entrepreneurs.
AAL2Business is an initiative founded by the AAL Programme that aimed at addressing this issue. The support action has recently come to an end. AAL2Business helped numerous European start-ups in their business development and commercialization challenges. This was possible by offering a wide range of solutions and support actions at different stages of their life cycle.
The program provided two main types of support: Lean Startup Academy and Go-to-Market Launchpad.
The Lean Startup Academy was a 3-month course that gave the participants the opportunity to increase their commercial traction and further their market success. A business coach guided the entrepreneurs to identify their target market. They help them to use the best channels to reach them, choose an effective value proposition, and validate their business model by testing their assumptions against the market. The Academy consisted of 3 face-to-face workshops and individual online coaching sessions of up to 8 hours each.
Watch the video to learn more about AAL2Business Lean Start-Up Academy:
The Go-to-Market Launchpad was a 2-month course for knowledge-based start-up projects with a more solid commercialization strategy. It provided participants with specific training and coaching on how to present a business value proposition clearly and convincingly. As well as capturing the attention of different types of potential investors or customers and business partners.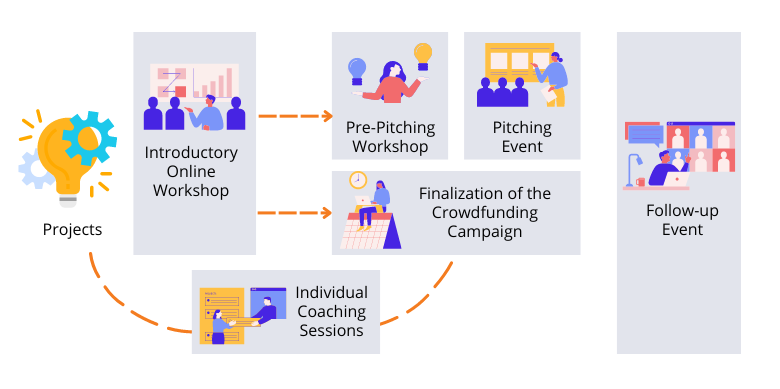 AAL2Business's success stories
For the past three years, AAL2Business accompanied 79 entrepreneurial teams and involved 118 organizations on their commercial development journey. By working with experts from META Group and from the Agency for the Promotion of European Research, the participants benefited from expert business strategy support to bring the results of their research to those who need them.
One example is PARLANGI, a cooperative enterprise that matches people who want to learn a language with native-speaking mentors. First, PARLANGI faced two problems: the lack of context with native speakers and the issue of loneliness. "We innovated language learning by connecting young language learners with older native speakers and creating a meaningful social context between people", explained Ad Geudens, Managing Director of PARLANGI.
"Thanks to the Go-to-Market Launchpad we learned to focus on what matters most to us. We have built a pre-project crowdfunding campaign, and thanks to the AAL community we established good relationships with social investors and companies whom we are negotiating to see how we can proceed", Geudens noted.
His start-up managed to get funding from the Flemish Government after working with the ALL2Business experts.  
Go-to-Market Launchpad
NIUM was another beneficiary of the Go-to-Market Launchpad, a spin-off focused on developing methods for personalized nutritional recommendations. NIUM combines two main aspects: a practical look referring to each person's culture and preferences, and the tailoring of that recommendation to each person's biology.
"The Go-to-Market Launchpad helped us build our communication strategy and present ourselves to investors. Overall, it was very useful to see the effort of making a research project and turning it commercially more attractive to investors", said Alberto Noronha, Founder and CEO of NIUM.
His team closed a license agreement shortly after receiving support services and working with the ALL2Business experts.
Visit the AAL2Business website for more information on the services and testimonials from participants.
Why is it important?
Many countries and regions are expected to see rapidly aging demographics, and the EU is a notable example. The median age of the EU's population has increased by 2.5 years in the decade 2011-2021 and was 44.1 years on 1 January 2021. By the end of the century, more than 30% of the region's population is expected to be 65 or older.
This graphic by Gilbert Fontana from 
Visual Capitalist
 and published by the 
World Economic Forum
, uses data from Eurostat to show how the EU's population is projected to change by 2100. It highlights the old-age dependency ratio. This ratio measures the number of people 65 and above, and generally retired or needing supplemental income, compared to the number of people that are working age (15-64).
In 2021, the EU's dependency ratio was 32. This means that for every 100 working-age people, there were 32 elderly people. By 2100, this ratio is expected to increase to 57.
In this context, Europe faced a tremendous health and care challenge. Ageing populations and tighter budgets are creating a gap between the growing demand for health and care services and a decreasing supply of resources.
Support actions like AAL2Business have a great potential to create opportunities out of these challenges by supporting innovation and rapidly bringing solutions to the market for the benefit of various stakeholders, from healthcare providers, insurers, governments, academia, to technology companies, and – most importantly – the citizens and patients themselves.
Resources: