Interreg Europe Policy Platform users rate Research and Innovation the most relevant topic.

​The Interreg Europe – Policy Learning Platform surveyed over 1000 users to understand their needs, providing a valuable snapshot on the latest priorities of regions across Europe. 
Between 15 February and 5 April 2017, 1.056 responses were collected from 36 different countries,
Among the four thematic objectives (Research and innovation, SME competitiveness, Low-carbon economy, Environment and resource efficiency), Research and innovation, with 48% of the responses, was considered as the most relevant topic. Only 4% of the respondents stated that it was not applicable for their work.
META manages the Policy Learning Platform for Research and Innovation.
Most interesting R&I topics
The survey also asked users to rate topics within Research and Innovation: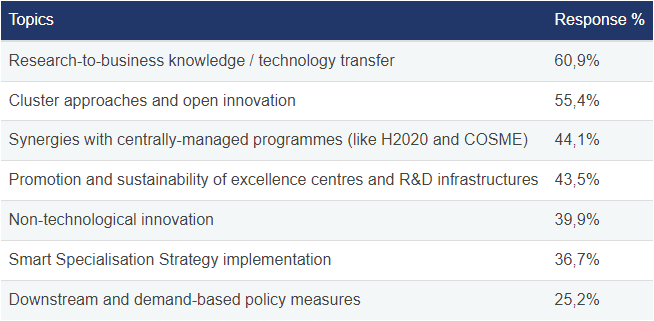 See more
For more information contact us