PRIMA is developing much-needed solutions to tackle this situation. Environmental and social changes are sadly affecting the Mediterranean agricultural sector.

These systems have suffered in recent years from severe water shortages and declining crop yields. Indeed, the Mediterranean is "water-poor" compared to other equally populated regions of the world. When this lack of clean water is coupled with a lack of nutritious food, this has adverse effects on the population's health and stability. These complex challenges can only be addressed by engaging in research and then applying innovative solutions.
The Partnership for Research and Innovation in the Mediterranean Area (PRIMA) is developing much-needed solutions to tackle this situation. This programme is a ten-year initiative (from 2018 to 2028), launched by the European Union and 19 Euro-Mediterranean countries. They aim to face the challenges posed by climate change. It was founded through Horizon 2020. The idea is to develop and implement efficient and sustainable solutions for the production and supply of food and water in the Mediterranean.
This year, META is contributing to this mission via its advisory services. This enables PRIMA to move closer to its goal by setting the innovation potential of a selection of funded projects. Technical assistance of this nature will allow PRIMA to identify the most promising funded projects. Also, they will assess their needs to maximise the impact of these innovations.
Setting the potential of 3 key areas
Since 2018, PRIMA Foundation has spent a total of €225M, with more than 1570 beneficiaries and 168 projects funded. Agriculture accounts for 42% of its activities. The agri-food value chains committees for 26%. While a quarter of their projects focus on water management.
Farming Systems: PRIMA's main activity refers to sustainable farming systems under Mediterranean environmental constraints. There is an urgent need to improve the productivity, efficiency, and sustainability of agricultural farming systems. This is due to the scarcity of resources, demographic growth, contamination, and desertification. Thus, PRIMA expects to provide high-added value products and to increase the products' shelf-life.
Agri-food value chain: Over-dependence on international markets can have an impact on local produce and regional markets. Supplying sustainable food regularly and highlighting the relevance of a healthy Mediterranean diet could make local products more competitive.
Water management: more than 180 people suffer from water shortages in the countries of the Mediterranean basin. This area aims to secure the availability of water, as well as to improve its management by developing innovative and efficient solutions.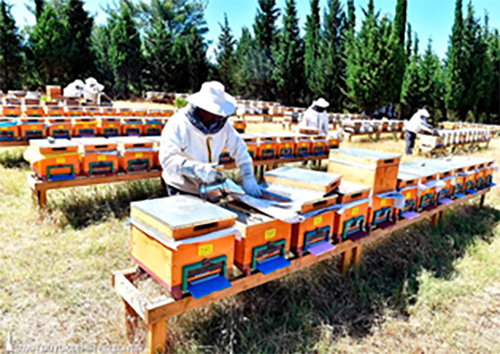 For some time now, scientists have been sounding the alarm bells on climate change, among other things, droughts have become more frequent and there is no life without water. The Mediterranean areas has already experienced a warming of 1.5°C, exceeding the global average which is 1.1°C. Thus, sustainable and stable practices such as agricultural conservation to improve soil quality, or the development of low-cost water-saving technologies will be crucial to advance in this transformation.
If you are part of the industry, whether an institution or a researcher, and want to join PRIMA's community, get in touch with them! Find more information about the thematic areas and how to get involved here.