Innovative and successful Challenge-based innovation platform to help startups tackle social problems
SocialChallenges.eu is the latest iteration of META's Innovation Platform, which uses challenge-based innovation to foster startups and SMEs capable of meeting Challenges, posed by organisations as diverse as city governments and private companies.

Entrepreneurial solutions to social challenges
As its name suggests, SocialChallenges.eu focuses on helping startups solve social and encironmental problems. As it is a challenge-based innovation platform:
these problems are posted onto the Platform by Challenge Owners' – public authorities, private companies and Third Sector Organisations.
'Solution Providers' (startups, social entrepreneurs, etc.) then Pitch their solution in response
In the process, both Challenge Owners and Startups 'put themselves on the map', along with governmental organisations and NGOs, funding organisations, accelerators and incubators, and more, helping make the local innovation fabric easier to navigate, and hence more efficient.
Up to three Solution Providers per Challenge are chosen by a Jury to win a €30.000 grant and six months of mentoring to help them turn their idea into reality. The Challenge Owner then becomes their first client, and their Solution is promoted to similar Challenge Owners across Europe.
"The project therefore combines an innovative and highly interactive online platform with offline events and training to stimulate startups and solve social challenges."
Successful launch, lessons learnt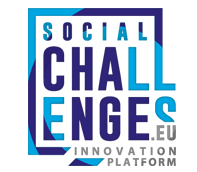 Following the 'lean startup' methodology, the website was first launched in Beta over the summer of 2017, providing useful feedback for the official launch of the website – and the 'first round' of Challenges and Pitches – in September 2017.
A total of 30 Challenges emerged from over 19 cities and regions across Europe over the following weeks. Between them, they attracted over 223 Pitches from startups and social entrepreneurs. While this was actually more than expected, the results were variable – some cities generated many more Challenges than others, and some Challenges attracted far more Pitches than others.
Since then two more Calls have been launched – check out the website SocialChallenges.eu and subscribe to its SCHIP newslwtter to stay informed.